Skip to Content
Chimney Liners Are Essential!
We only use the highest quality of products when it comes to chimney liners. Our manufacturers are so confident in its performance and application that they even come with a lifetime warranty.
We utilize liners with a welded seam making it leak-proof, which is a features you won't find in other chimney liners. Although it isn't required for gas flues, it's suggested to be installed to enhance the performance of the flue.
An unlined chimney is an unsafe chimney and without a chimney liner, you are putting yourself & your family at risk of a chimney fire. A flue lining in a masonry chimney is defined as "clay, ceramic or metal conduit installed inside a chimney, intended to contain the combustion products, direct them to the outside atmosphere, and protect the chimney walls from heat & corrosion."
Some chimneys also house the furnace and water heater flues. A liner is also required to vent the carbon monoxide to the atmosphere.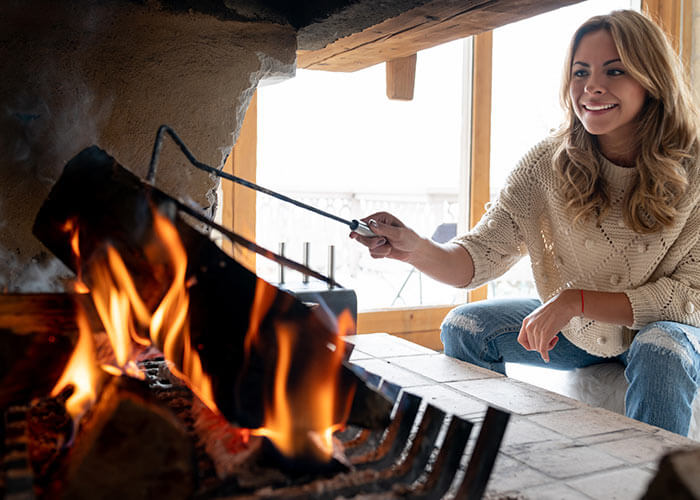 There Are Several Functions of a Liner
It protects the house from heat transfers to combustibles
It protects the masonry from the corrosive by products of combustion
It does require a correctly sized flue for optimum efficiency of appliances
Types of Liners
We can install a lining system to meet your needs. The different types are as follows:
Clay tiles. This is the most common type of masonry chimney liners. They are inexpensive, readily available, and perform quite well for open fireplace chimneys that are properly maintained.
Metal. These are usually made of stainless steel or aluminum and are primarily used to upgrade and repair existing chimneys. These liner systems are U. L. tested and listed, and if properly installed and maintained are extremely safe and durable.
Stainless steel is suitable for wood burning or gas.
Fireclay lining seal. This is made of fireclay and is 1/4" to 1/2" thick and sealed with an acryl 60 bonding agent. This type of lining is suitable for gas logs only on single brick wall structures that are not safe for solid fuel.
Call Us for All of Your Chimney Needs