Skip to Content
Servicing Your Gutters
Gutters are a necessity for every home. They collect rainwater from your roof and ensure it is carried away from your home, protecting your roof, foundation, and the rest of your home from water damage over time. Without proper gutters to direct rainwater and melting precipitation, water can pool in unwanted areas, causing issues such as foundation erosion, mold or mildew growth, and roof rot. The team at J.H. Kinard can ensure your Fayetteville, GA home is equipped with fully functioning gutters to protect your most valuable asset. We can install, clean, and repair your gutters, as well as outfit them with additional accessories to help preserve them for years to come. Contact us today to learn more about our gutter options.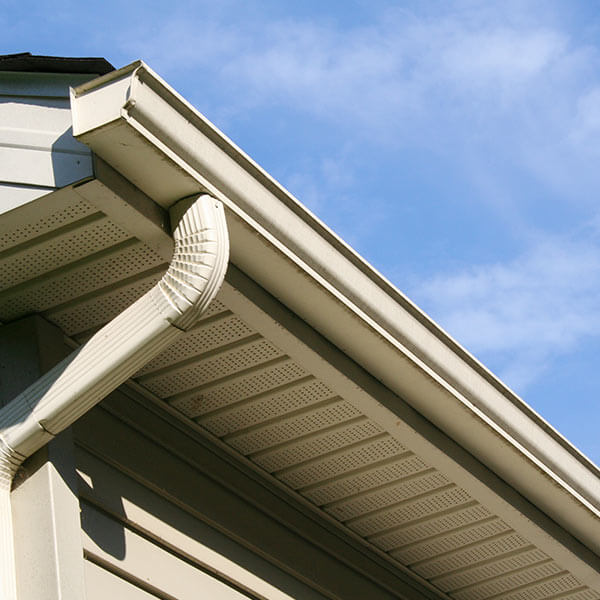 Seamless vs. Traditional Gutters
At J.H. Kinard, we can install both seamless and traditional gutters. While both options help to protect your home from water, seamless gutters are growing in popularity due to their superior construction and durability. Instead of being bracketed together in sections, like traditional gutters, seamless gutters are installed in a single piece. Homeowners choose this option for all of the following reasons:
Eliminates unsightly seams
Reduces leaks
No painting required
Formed on location to precisely fit your home
Huge selection of colors
Made with heavy gauge materials
Installation in one day
Our Gutter Services
J.H. Kinard can provide a complete list of services to ensure your gutters stay in excellent shape, as well as outfit them with specialized equipment that enhances their function. Trust us to handle everything your gutters need. We offer all of the following gutter services:
Gutter Guards
We have a selection of the best industry-standard gutter guards in every category and price range. We'll help you decide which option will provide the best performance for your home while staying within your budget.
Gutter Repair
Damaged gutters should be repaired quickly by a professional to ensure your home stays protected from water. Our team has experience choosing the proper materials to ensure your gutters are repaired sufficiently.
Gutter Installation
While most homeowners choose gutters made of aluminum, we're also able to accommodate requests for gutters made from vinyl, steel, copper, or zinc. We can visit your home for a consultation to help you choose the right material for your home.
Gutter Cleaning
Maintaining your gutter system ensures they can provide your home with years of protection. Proper maintenance requires regular cleaning to remove debris and other items that might clog up the system and prevent adequate water flow. We can perform this service for you twice a year.
Gutter Protection Systems
Our gutter protection systems are meant to extend the life of your gutters and downspouts. With a nose-forward design, our protections systems allow water to flow into the gutters but prevents leaves, sticks, and other debris from entering. These systems securely attach to your gutter for a permanent solution.
Contact Us Today for Gutter Service
If you need new gutter installation or service for your current gutters, call the experts at J.H. Kinard. We're here to provide you with excellent service whenever you need us, giving advice on the best solutions for your home. Contact us today to schedule service.
Call Us for All of Your Chimney Needs